Shackled by sanctions, Iran sends India SOS for life-saving drugs. Its healthcare system crippled by international economic sanctions, Iran has asked India for help to procure life-saving drugs for patients battling critical illnesses in that country.
Tehran has put in an urgent request to New Delhi for drugs to treat lung and breast cancers; brain tumours; heart ailments; infections after kidney
, heart and pancreas transplants; meningitis in HIV patients; arthritis; bronchitis and respiratory distress in newborns; and epilepsy, South Block sources told The Indian Express.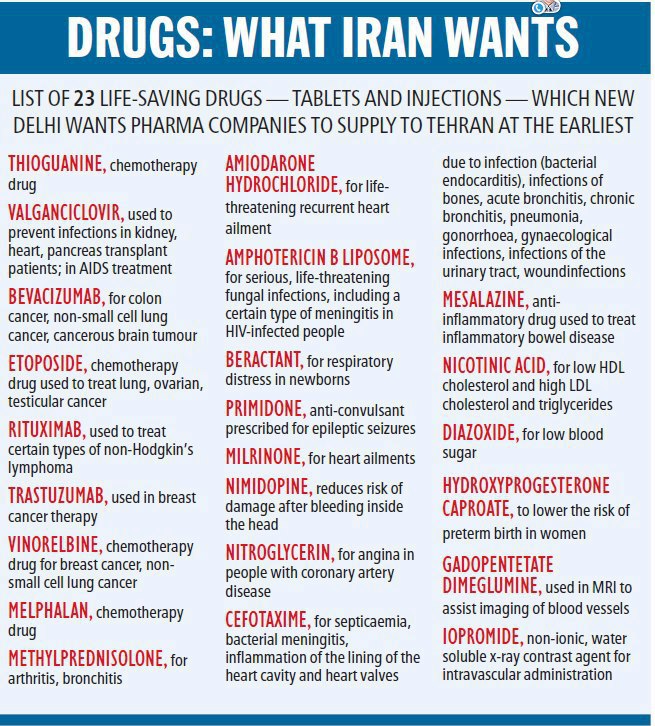 On December 27, the sources said, the government forwarded the request for 28 essential medicines to Indian pharmaceutical companies. The required quantities range from 1,000 units to 5 million units and, put together, it is turning out to be the largest consignment of medicines exported from India in recent times.
Iran's health ministry has been in constant touch with the Indian government, and a delegation of Indian pharma firms visited Tehran in early December 2012 to meet both government officials and Iranian pharma executives. On January 2, Iran's national security adviser Saeed Jalili told a think-tank audience in Delhi that international economic sanctions on Iran were not a "threat", but an "opportunity".
Although trade in medicine is exempt from international sanctions imposed by the UN Security Council and the unilateral sanctions announced by the US and EU, Western banks have been declining to handle transactions.
SOURCE:
http://www.indianexpress.com/news/shackled-by-sanctions-iran-sends-india-sos-for-lifesaving-drugs/1054837/